BEFORE YOU GO ON TO READ ABOUT ARNOLD OR LOOK AT HIS PICTURES, PLEASE TAKE A COUPLE OF MINUTES TO READ THIS PAGE.
ARNOLD IS A SPOKESMAN FOR THE IFAW AND IS TRYING TO GET THE ILLEGAL TRADE OF ANIMAL TRINKETS BANNED AND STOPPED.
BELOW YOU WILL FIND A LETTER FROM ARNOLD, A LINK TO LISTEN TO A MESSAGE FROM HIM, A PIECE BY ME AND SOME PHOTOS.
Arnold has joined the IFAW to help stop the illegal trade of animal trinkets from South Africa, please visit the site and sign the pledge
Pledge Not to Buy Wildlife Souvenirs
Have you ever thought about what you—and the millions of other tourists who travel abroad every year—are really bringing back with you from your vacation?
I'm writing on behalf of IFAW to alert you to one of the most serious problems threatening wildlife today—a problem you might have even participated in without knowing it.
Each year, customs officers seize thousands of wildlife items from travelers, many of them tourist souvenirs made from endangered or threatened species. Examples include elephant ivory carvings and jewelry, tortoise and turtle shell accessories, big cat skins, reptile skin handbags, belts and shoes, porcupine quill coasters and lampshades, coral and shells, and many more.
Sadly, many tourists buying souvenirs made from wildlife have no idea that they have done anything wrong, often because these items are sold openly in resorts, airports, shops and markets—masking the bloody truth behind the wildlife trinkets being sold.
Please Join Me in Signing the Pledge to "Think Twice": Don't Buy Wildlife Souvenirs
It is often illegal to bring wildlife souvenirs home with you, particularly those made from the most threatened species such as elephants and marine turtles. Other wildlife such as porcupines and sharks, although not prohibited from international trade, are often cruelly and widely hunted to make a necklace, coaster or picture frame: ironically to remind people of their wonderful wildlife experience.
A recent investigation by IFAW in South Africa—a popular holiday destination—demonstrates the extent of the problem. IFAW researchers discovered a thriving trade in wildlife souvenirs, including ivory carvings, porcupine quills and sharks' teeth, many of which are being sold illegally to tourists.
What else can you do?
Spend your money wisely on your vacation by buying alternative mementos that directly benefit local people of the areas you visit, such as non-animal handicrafts, instead of items that harm the wildlife you are there to see.
Please also help IFAW spread the word to others—advise your friends and family to "Think Twice" when on their vacations, and then call your local travel agents and ask them to do the same.
If you don't buy—they won't die!
Yours sincerely,
Arnold Vosloo
Actor
P.S. To learn more about how wildlife souvenirs that threaten endangered animals are ending up in the living rooms of unsuspecting travelers, visit
www.ifaw.org/us/thinktwice
.
My name is Tanith Vosloo, I own this site. I am no relation to Arnold just had my name changed.
I support what he and others are doing in the battle to stop this horrible trade in animal trinkets. Below are two pics, one is of a herd of elephants in South Africa and the other is of Abu, a 11ft bull elephant.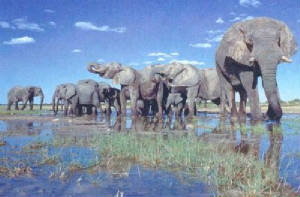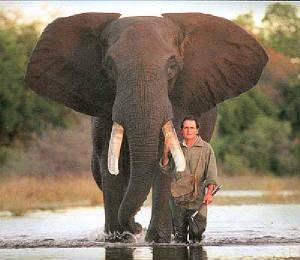 Abu was a gentle giant who starred in lots of films including one with Arnold Vosloo called Circles In The Forest. he gave rides to people on Safaris and sadly died a couple fo years ago from natural causes having lived into his 20's. Note the magnificent tusks he has. They are used for gathering food, lifting things and fighting with other bulls.
But however, they are also worth a fortune and sadly a lot of elephants are killed for them. People cant just go to South Africa and bring back memories or photos, they want a cool trinket on their wall, mantlepiece or floor. A jewel box, letter opener, necklace, even the foot of an elephant as a foot stool, just so they can show them off to their friends.
This has to STOP!!!!!
our grandchildren want to be able to see them in the wild, roaming free, but if this trade continues, all they will see of elephants is a picture in a book. They will be extinct and all because of mans greed.
And its not just elephants, its lions, leopards, tigers, whales, all killed to give the tourist a trinket.
Join Arnold in this fight to stop it all. Sign the pledge, DON'T buy ivory goods on holiday, in most countries its illegal to bring them home anyway.
Below are two more photos, one is of Abu lifting Arnold Vosloo up in the movie Circles in the Forest, note how they use their tusks and trunks in unison. the other is NOT for the faint hearted, it is of an elephant AFTER the tusks have gone. I know which phots I prefer!!!!!!